It's a great product when completed, with a very good seal…….The instructions are the right way to do it, don't be tempted to assemble on the ground – hanging the netting and pushing the locking border on ensures the size and fit are right and you can adjust as you go……We have had aluminium screens before, and these are much better.
High Quality Magnetic Fly Screen For Windows
Super Easy To Install, Suitable For All Window Types & Frames (including Wooden Frames)
Magnetic Fly Screen For Windows | Window Screen
A Variety Of Sizes to Choose From
FREE FAST SHIPPING ACROSS CANADA ON ALL ORDERS $75+ or more (save $25)
3 DAY DECEMBER SUPER SALE … Don't Miss Out
The premier magnetic insect screen that you can easily self install & custom fit to your window
The DIY magnetic flyscreen for window screen kit smartly attaches to your window via a supplied self adhesive magnetic strip (included in every kit) which is applied fully around your window frame.
This self adhesive magnetic strip can be easily removed without damaging your window frame.
Available in x2 mesh options
Standard Mesh
Grey in colour - suitable for all insects, flies and mosquitos
Standard Mesh Specifications
18 X 16 (thread count per square inch) mesh insect screening, and is woven from permanent glass yarn, coated with a protective vinyl to ensure lasting beauty, colour and flexibility.
It is produced under the most exacting conditions to meet extremely rigid specifications. Phiferglass is noncombustible and will not rust, corrode or stain. Dark Phiferglass screens offer the best outward visibility of the product line.
Colour: Grey
Diameter: 0.011″ | 0.279mm
Open Area: 66%
Midge Mesh
Black in colour - also suitable for all insects, flies and mosquitos - but has a tighter weave that will also prevent Midges (what are Midges? - click here)
Midge Mesh Specifications
20 x 20 (thread count per square inch) mesh.
Known as NO-SEE-UMS screen, this fiberglass screen is a tightly woven 20×20 mesh designed to keep out smaller flying insects like no-see-ums, gnats, sand flies, and other bugs that may inhabit marshy or coastal areas.
While densely woven, this screening still allows good ventilation and visibility and provides some daytime privacy. 20×20 Fiberglass screening is woven from permanent glass yarn which has been coated with a protective vinyl to ensure lasting beauty, color and flexibility. It is produced under the most exacting conditions to meet extremely rigid specifications.
Fiberglass screen is noncombustible and will not rust, corrode or stain, making it perfect for windows, doors, patios, and pools.
Colour: Black
Diameter: 0.013″ | 0.33mm
Open Area: 45%
DUE TO CURRENT DEMAND
PLEASE ALLOW 5-7 DAYS SHIPPING
EACH KIT CONTAINS

Order the frame size that is slightly larger than the window you want to screen – you are able to easily cut the frame to fit (with a cutting blade or strong scissors – no tradesman tools required).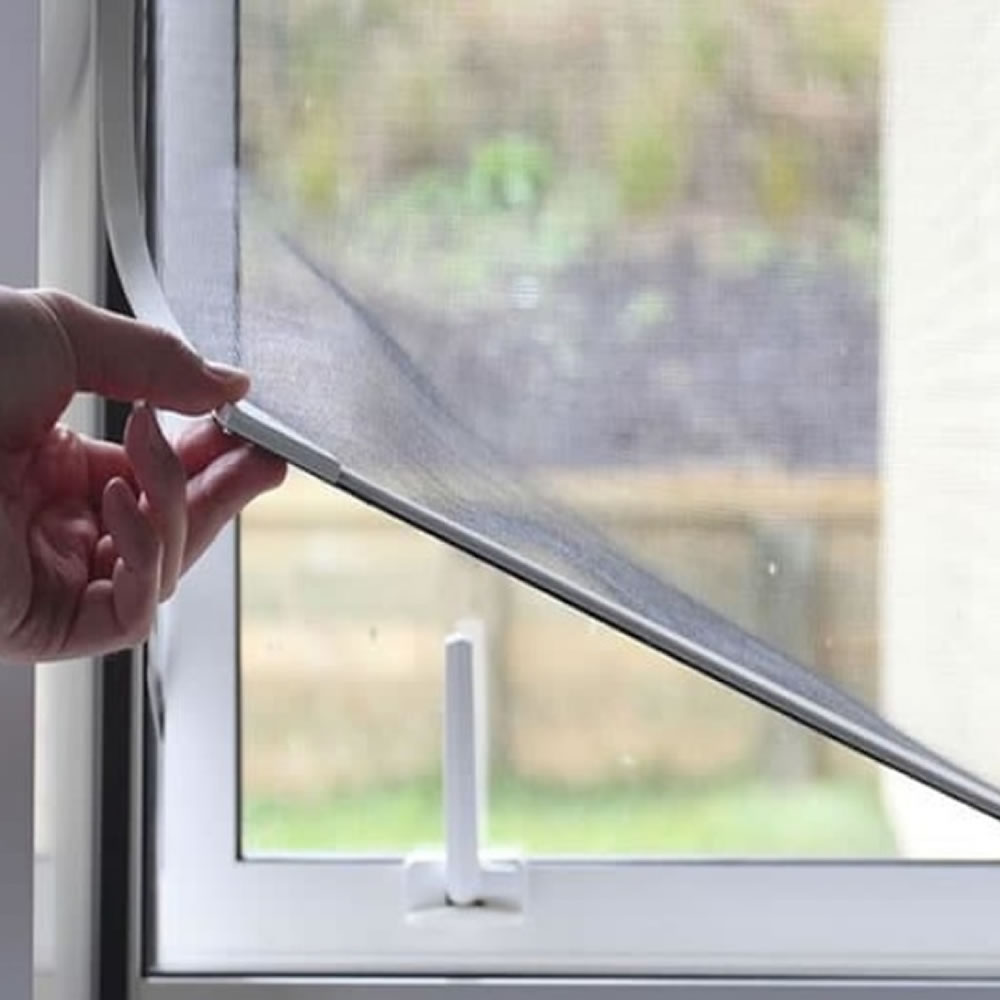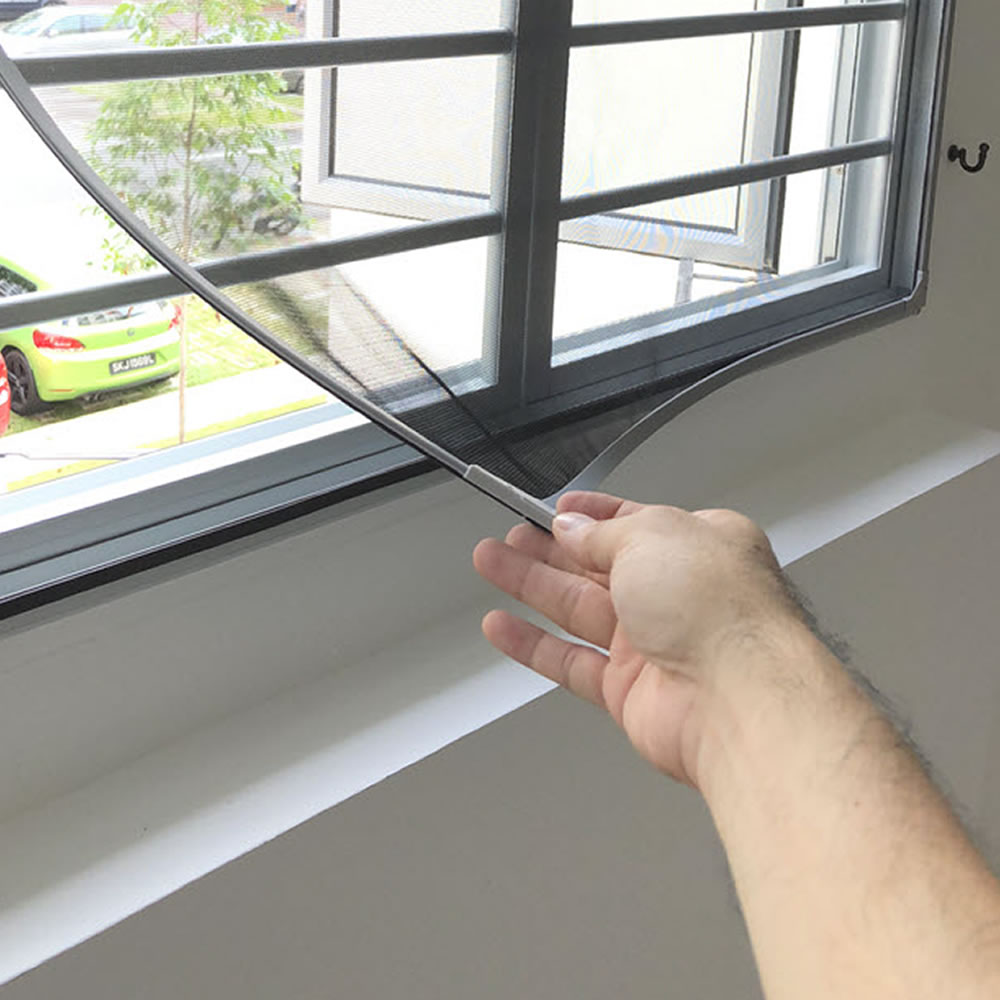 The Premier Magnetic Window Flyscreen
The DIY magnetic window screen is installed onto your window via a "permanently temporary" magnetic strip so that it does not affect your existing window frame and is especially designed to blend into the background, principally being invisible from a distance.
This effective low cost (cheap!) temporary flyscreen allows you to have a high quality of life without the worry of mosquitoes, lizards or other insects in your house. It is easy to remove for cleaning (just spray/clean with water and detergent).
If you have double hung or casement windows and are scratching your head about what is the best DIY fly screen solution to protect your family and house from those irritating, dirty and potentially disease carrying insects – DIY magnetic insect screens are the ideal solution.
Magnetic fly screens can be custom cut to fit windows of all types and sizes, simply and easily.
They are very durable and flexible making them not only easy to clean but also easy to use.
Finger tabs on the bottom corners of each magnetic fly screen enable you to pull the screen away from the window to give you easy access to open and close your window.
The magnetic insect screen flexes easily out of the way providing you unhindered access to open and close your windows, just let the corner tab go and it will simply snap back into place.
The flexible PVC frame of the magnetic insect screen is far less bulky and obtrusive compared with traditional aluminium framed fly screens.
"On older homes where no 2 windows are the same size and sometimes out of square also, magnetic screens are ideal because they are individually measured to fit with millimetre accuracy to ensure that they fit perfectly."
The overall effect of having slimline frames and the fly screens being easily DIY custom fitted to individual windows results in a very tidy and professional looking finish that often gives a lifting effect on a room. They are the perfect addition to any home.
Contact us today and one of our experienced staff will be in touch to provide you with a no obligation free quote and answer any questions you may have about DIY magnetic flyscreens.
How To Install A Window Magnetic Insect Screen
Measure your window
Apply the magnetic strip around your window frame (this is a 3M self adhesive product & is very strong)
Cut your screen to size and build the screen (see the Build Your Screen In 6 Easy Steps guide below) (the mesh is secured to the screen by using a grooved magnetic strip – pretty ingenious)
Attach the now magnetised screen to the magnetic strip around your window
Enjoy your open window and let air in to your house without any bugs, flies, spiders or mosquitoes
Frequently Asked Questions
Which payment methods are accepted?
We currently only accept credit card payments, PayPal & Crypto currency. More payment methods will be added in the future.
What currency are the prices displayed in?
All of our prices are displayed in $CAD.
What are your delivery options and how long will it take?
Canada: Free shipping, 5-7 days
OUR SHIPPING PARTNERS
Do I get a receipt for my order?
You will be sent a receipt for your order by email after payment is made. You will also receive a confirmation email with a tracking number once your item has been shipped.
Do you have a shop location?
We are a "online supplier", with no physical shop or premises. In this way, we are able to pass our considerable savings directly to you.
Do your products come with warranty?
Unless otherwise stated all items purchased from https://magneticwindowscreen.com come with a standard consumer warranty.
Can I return my item?
We will gladly Refund or Exchange an item if:
The item is faulty
The item is not the same as the description or as shown or advertised
The item does not perform as per the manufacturers intention
You may not be entitled to a Refund or Exchange if:
You have changed your mind and no longer require the item
You decide you cannot afford the item
You found the item cheaper elsewhere
The style, colour, or size is not suitable
You were responsible for the fault
All refund requests MUST be accompanied with an original receipt or other proof of purchase.
Please feel free to discuss our policy with our Manager prior to purchase.
Note that measurements quoted on our website and affiliated sites and social media channels are subject to slight variances, when purchasing items measure all items to ensure they fit your space.
How do I know if my order has been shipped?
Once your order is shipped, it will be marked as complete in our database and you will receive a confirmation email with a tracking number.
I haven't received my order yet! Is it lost?
If you have any concerns with your order, please contact our support team by email and they will be glad to assist you. Most emails are answered within 1 business day.
Support Team: admin@customersupport.care
What is a magnetic fly screen for windows, also known as a magnetic window screen or magnet window screen?
A magnetic fly screen for windows is a mesh screen designed to keep insects out while allowing fresh air to flow into the room. It features a magnetic closure system that allows for easy installation and removal.
How does a magnetic fly screen for windows work?
A magnetic fly screen is made of a fine mesh material that is attached to the window frame using magnetic strips. The magnets create a secure seal when the screen is closed, preventing insects from entering while still allowing airflow.
Are magnetic fly screens suitable for all types of windows?
Magnetic fly screens are designed to fit most standard windows, including casement, sliding, and double-hung windows. However, it is important to check the dimensions of the screen and ensure it matches the size of your window.
What are the benefits of using a magnetic fly screen for windows?
Magnetic fly screens provide effective protection against insects while allowing fresh air to circulate. They are easy to install, remove, and clean. Additionally, they do not obstruct the view or require drilling or permanent fixtures.
Can a magnetic fly screen be used on doors as well?
While magnetic fly screens are primarily designed for windows, there are variants available specifically designed for doors. These door screens feature a similar magnetic closure system and provide insect protection for doorways.
Do magnetic fly screens block sunlight?
Magnetic fly screens are designed to allow sunlight to pass through while providing a barrier against insects. The mesh material is typically fine enough to maintain good visibility and natural lighting.
Are magnetic fly screens durable and long-lasting?
Magnetic fly screens are typically made from durable and UV-resistant materials, such as fiberglass or polyester. With proper care and maintenance, they can last for several seasons.
Can magnetic fly screens be customized to fit non-standard window sizes?
Some magnetic fly screen manufacturers offer customization options, allowing screens to be tailored to fit non-standard or larger window sizes. It is recommended to check with the manufacturer or supplier for customization options.
Can magnetic fly screens be used in rental properties or temporary installations?
Yes, magnetic fly screens are a popular choice for rental properties and temporary installations. They can be easily installed and removed without causing any damage to the window frames.
How do I clean and maintain a magnetic fly screen?
To clean a magnetic fly screen, gently vacuum or brush away any dust or debris. For more thorough cleaning, remove the screen and wash it with mild soap and water. Avoid using abrasive cleaners or rough scrubbing to prevent damage to the mesh.
It's important to note that specific instructions and guidelines may vary depending on the manufacturer or brand of the magnetic fly screen. Always refer to the provided instructions for proper installation, usage, and maintenance.
magnetic fly screens bunnings
magnetic fly screens kmart
bunnings fly screen curtain
magnetic fly screen bunnings
magnetic fly screen kmart
magnetic fly screen
magnetic fly screens
magnetic fly screens bunnings
magnetic fly screens kmart
bunnings fly screen curtain
magnetic fly screen bunnings
magnetic flyscreen
magnetic flyscreens
magnetic fly screen kmart
magnetic fly screen window
diy magnetic fly screens
magnetic fly screen door
bunnings magnetic fly screen
magnetic fly screens brisbane
brisbane magnetic screens
mosquito net for windows
fly screen curtain
temporary fly screen
magnetic screen
magic seal
magnetic curtains
magnetic fly screen doors
temporary flyscreen
magnetic insect screen
permastik magnetic insect screen
magnetic fly screens windows
bunnings magnetic fly screens
bunnings magnetic flyscreen
mosquito net door
car window fly screen
magnetic insect screens
fly screen magnetic
magnetic window screen
magnet fly screen
magnetic door curtain
portable fly screen
magnetic fly screen window bunnings
velcro fly screen
magnetic fly screens perth
magnetic screens
magnetic fly screens melbourne
magnetic fly screens for campervans
magnetic fly screens for casement windows
magnetic window fly screens
fly curtain bunnings
magic seal magnetic insect screens
temporary fly screen window
caravan magnetic insect screens
magnetic fly screens kmart au
magic seal screens
magic mesh kmart
magnetic mosquito net
car fly screen
magnetic window screens
temporary fly screen door
magnetic screens brisbane
magnetic fly screen masters
magicseal insect screens
magic mesh australia
insect curtains
diy magnetic fly screen kits
zone hardware magnetic fly screen curtain
magnetic insect screens bunnings
temporary window screen
portable fly screens for windows
magnetic screens for windows
magnetic mesh
magic seal fly screens
diy magnetic insect screens
magnetic mosquito screen
magnetic window fly screen
magnetic insect screen for windows
magnetic fly wire screens
temporary fly screens
magnetic mesh fly screen door
flexible fly screens
magnetic bug screen
screen magnet